Please place your services order at the same time as making your RV Reservation. These are shown as Add-Ins.
Reservations close August 1, 2022 For late reservations contact Liz Swearingen, eas1823@comcast.net
Parking available: Friday, August 12, 2022 through Sunday, August 21, 2022, with departure on Sunday, August 21, 2022.
CANCELLATION POLICY
OKC RV PARKING
AND
RESERVED GROOMING
1. All RV Reservation Cancellations must be made through and acknowledged in writing by the RV Parking Chair, Liz Swearingen (425) 269-7583
2. All Grooming Reservation Cancellations must be made through and acknowledged by the Grooming Chair, Ron Colyer, r_colyer@yahoo.com
3. Cancellations may be made anytime up to 17 days prior to the start date of your reservation date without penalty
4. Cancellations made less than 17 days prior to the start of your reservation will result in forfeiture of camping and/or grooming fees
5. Reservation processing fees will not be refunded
6. No refunds will be made for weather condition, voluntary departure, acts of nature, or evictions. Any refund processed will be refunded in the same form that it was originally paid less any processing fees. All refunds processed via credit/debit card, will be processed back to the original credit/debit card used, no exceptions. You must cancel within the cancelation guidelines to receive a refund
OLYMPIC KENNEL CLUB RV PARKING
Terms and Conditions of Service
• CHECK IN TIME IS NO EARLIER THAN 2:00 PM ON THE FRIDAY PRIOR TO THE SAMMAMISH KENNEL CLUB SHOW. No Exceptions without prior consent from the RV Parking Chairman.
• CHECK OUT TIME IS SUNDAY OF THE OKC SHOW AT THE LATEST. No additional night stays are allowed on the Expo Center grounds without Expo Center approval.
• NO open firepits. Portable barbeques are allowed.
• Maximum occupancy for sites is one vehicle and trailer/fifth wheel or motorhome with tow vehicle provided space allows.
• Dogs must not be left unattended at anytime in X-Pens or crates. Owners or their agents are responsible for their care and upkeep while on show grounds.
• Quiet hours are in effect from 10:00 PM until 6:00 AM daily. Any unreasonably loud noise is prohibited at any time, including TV's Radios and Generators.
• Only one (1) RV per site.
• Only one extra vehicle per site, others must park in visitor parking area.
• No bicycle riding after dark.
• Sinks in restrooms are not to be used for washing dogs or dishes.
• There are no waste water drops on the show site. No dumping of porti-potties in restrooms is allowed.
• Pump-out, potable water and propane services will be available for purchase.
• RV Mobile services are available on site. Pay vendor for any services.
• All garbage must be placed in the dumpster or garbage cans located around the show grounds.
• Vehicles must be street legal and operated by a licensed driver on the grounds
• The use of golf carts/motorized scooters/mini bikes, etc. on show grounds must be operated at a safe speed.
• Please abide by the posted speed limit signs to keep everyone safe.
• Use of electrical outlets and 'spider boxes' are at the owner's risk. Any site user overloading their site may result in expulsion or a fine.
• Damage done by misuse of electrical outlets will be the responsibility of the site renter and fined accordingly.
• Do not attempt to use coffee pots or force dryers on 15 amp without ensuring you will not overload the circuits. Check with the RV Chairman or Assistant.
• All outlets are 15 AMP only, unless you have been specifically notified by the RV Reservation Chairman or Assistant of any change.
• Sites are marked and any encroachment or overflow to neighboring sites must be approved by the RV Chairman or Assistant.
• NO SMOKING in any buildings on site, including restrooms. Please be sure to pick up your cigarette/cigar butts. SMOKING MARIJUANA IS PROHIBITED ON EXPO CENTER GROUNDS. Non-compliance will result in forfeiture of your campsite and no refund will be made.
• Cutting, trimming or damaging standing trees, plants or other living vegetation is prohibited.
• The use of FIREWORKS, FIREARMS, EXPLOSIVES and PROJECTILE-FIRING DEVICES is prohibited.
• PLEASE DO NOT FLUSH BABY WIPES OR ANY OTHER SANITARY WIPES INTO THE Expo Center septic system. Even if they say they are flushable, they will cause trouble to the septic system.
• Please do not cut through other people's campsites.
• Use of Exercise Pens is accepted but damage done to the lawn (such as digging) or surfaces must be repaired by site renter.
• All Sawdust or fecal matter must be cleaned up by site renter. Leave the site better than when you arrived.
• If ground is soft from rain or lumpy, use load spreading blocks under your jacks to distribute the weight of your RV.
• ALCOHOL is permitted. However, excessive use or use of any illegal drugs will not be tolerated and will be reported to local authorities. As solely determined by management, drunkenness, any disorderly conduct, illegal drug use, obscene language, any disrespectful/rowdy behavior by you, your guest, pets, children or anyone in our camp will subject you and your group to permanent loss of your camping privileges and immediate ejection without a refund.
• Flying drones are PROHIBITED WITHIN THE EXPO CENTER GROUNDS.
• All reservations require payment in full at the time of the reservation.
• Cancellations made after the closing date of the will result a charge of one nights camping fee.
• There will be no refunds for unused days or for the discomforts of Mother Nature.
BY MAKING A RESERVATION, YOU ARE ACKNOWLEDGING AND AGREEING TO ABIDE BY ALL THE ABOVE TERMS AND CONDITIONS OF SERVICE.
Please be respectful to other campers, adhere to social distancing guidelines

Generators with exhaust pipe allowed for air conditioning units during the hours of 6:00 a.m. to 10:00 p.m.

10:00 p.m. - 6:00 a.m. quiet hours

Refund policy: 100% minus platform fee of $5 and merchant fees, request must be in writing and postmarked on or before July 31, 2021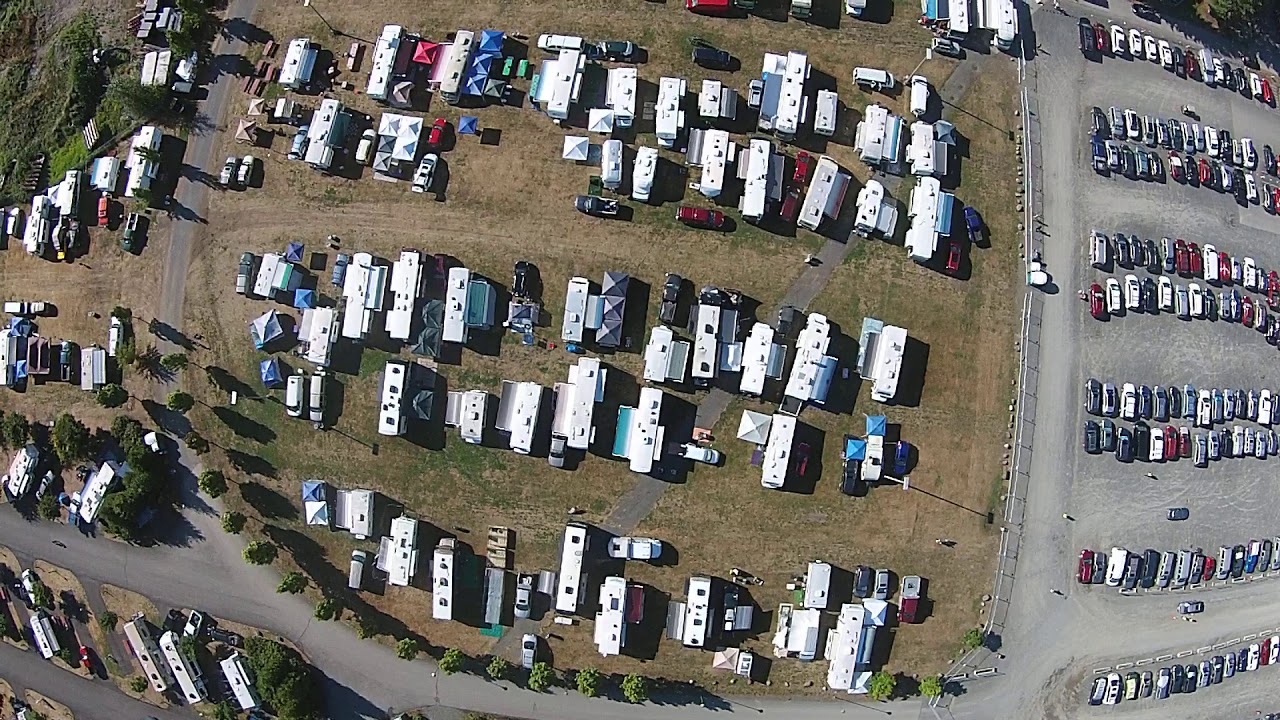 Enumclaw Expo Center
45224 284th Ave SE,
Enumclaw, WA 98022
General RV Parking:
20 amp spider boxes
Campground RV Parking:
50 amp. power and water
All Campground reservations must be made through the RV Parking Chair shown below
If you encounter difficulties making your reservation online, please contact Liz Swearingen at the email or phone number shown above.
Frequently Asked Questions:
Can I run my Air in my RV?
You must have a generator and an exhaust stack to run your air conditioner. Air conditioning cannot be run based on the power provided. You will blow the circuit for all RV's on that circuit.
Are there showers available on site?
Showers are located in the restroom located by the exercise pens and will be accessible with mandatory cleaning prior and post shower.