Reserverations closes July 31, 2021 No refunds after closing
Parking available Nights of: Friday, August 13, 2021 through Saturday, August 21, 2021.
1. If you have a group that wants to park together, the RV reservations must be submitted together along with a check for payment. There must be a form submitted for each site requested.
A. Arrival and departure dates may vary on the vehicles in the combined reservation. (Arrival date may be no earlier than August 13, 2021 and latest departure date is August 22, 2021)
B. Other individuals may be assigned to those spaces on the dates for which they are not occupied by your group.
2. Spaces in the Expo Center RV Park will go on a first come first serve basis to RV's who will be there for the entire show period of 9 nights (arrive on Friday, August 13th and depart on Sunday, August 22nd). If the 27 sites in that area do not fill with RV's for the entire period, a waiting list will be maintained for anyone else that has requested those sites.
3. RV parking rates are the same as in prior years
A. 40 ft. Sites are $50.00 per night
B. 50 ft. sites are $60.00 per night (These sites are located in the RV Campground and the South Parking Lot ONLY and the number of sites available is limited)
C. RV Park sites are $90.00 per night and include water and power.
D. The 50 ft. sites are limited and will be filled on a first come first serve basis and the majority of these are in the South Parking Lot.
E. Most 40 ft. & 50 ft. sites will have access to 20 amp power through spider boxes.
4. Kruegel RV repair services, who were with us for the 2019 show will be on site throughout the show period to assist with any necessary RV repairs and problems.
5. We currently have plans to arrange for 2 dumps for the RVs, potable water fills, and propane fills. Please watch the OKC Website for information on these services.
6. The $20.00 fee for each additional car includes any vehicle other than that used to tow your Travel Trailer, 5th Wheel, or Tent Trailer. This $20 fee is a one time fee, not a daily fee. There is a limitation of 2 additional cars per site.
Please be respectful to other campers, adhere to social distancing guidelines

Generators with exhaust pipe allowed for air conditioning units.

10:00 p.m. - 6:00 a.m. quiet hours

Refund policy: 100% minus platform fee of $5 and merchant fees, request must be in writing and postmarked on or before July 31, 2021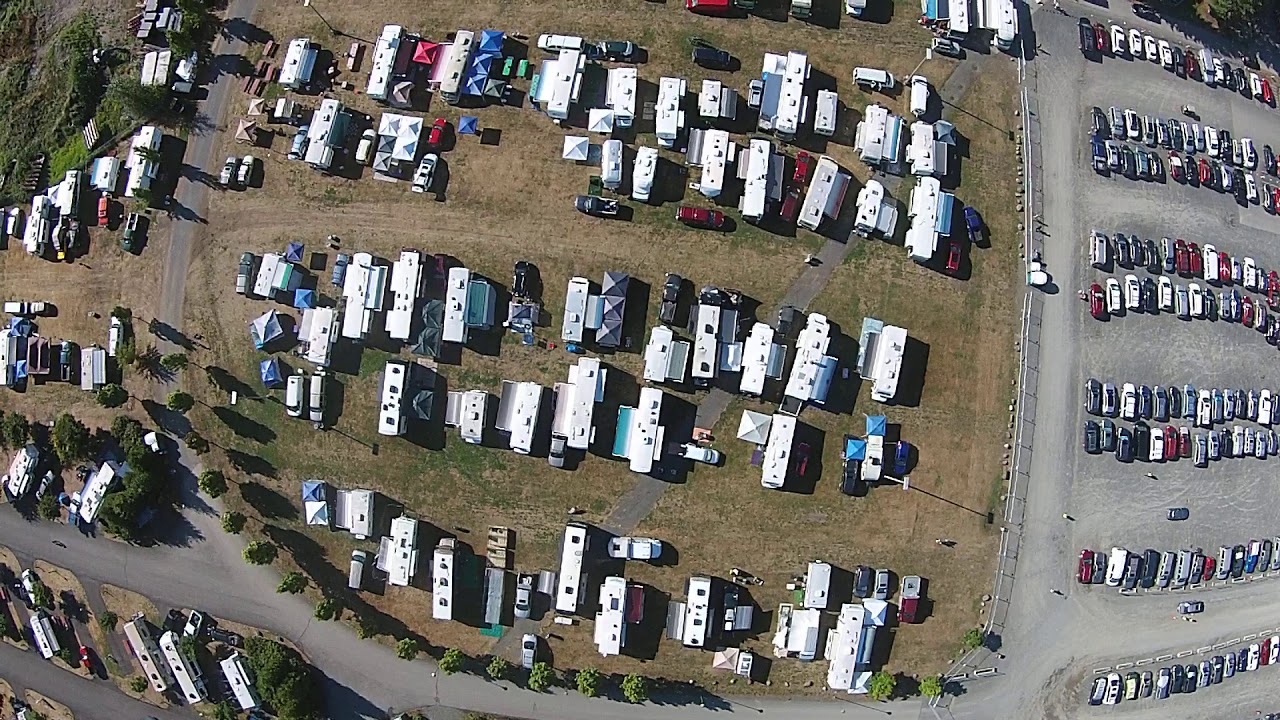 Enumclaw Expo Center
45224 284th Ave SE,
Enumclaw, WA 98022
General RV Parking:
20 amp spider boxes
Campground RV Parking:
50 amp. power and water
Date of Service:
Tuesday, Aug. 17 Friday, Aug. 20
Frequently Asked Questions:
Can I run my Air in my RV?
You must have a generator and an exhaust stack to run your air conditioner. Air conditioning cannot be run based on the power provided. You will blow the circuit for all RV's on that circuit.
Are there showers available on site?
Showers are located in the restroom located by the exercise pens and will be accessible with mandatory cleaning prior and post shower.